Lady Baltimore Cake Recipe
Ingredients
1-2/3 cups raisins, chopped

8 dried figs, finely chopped

1/2 cup brandy
CAKE:

2-1/2 cups all-purpose flour

2 cups sugar

2 teaspoons grated orange peel

1 teaspoon baking powder

1/2 teaspoon baking soda

1/8 teaspoon salt

1-1/3 cups buttermilk

1/2 cup butter, softened

1 teaspoon vanilla extract

4 egg whites

FROSTING:

2 cups butter, softened

6 cups confectioners' sugar, sifted

2 teaspoons vanilla extract

1/4 to 1/3 cup heavy whipping cream

1 cup finely chopped pecans, toasted
Directions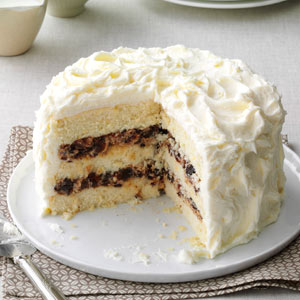 In a small bowl, combine raisins and figs. Add brandy; toss to combine. Let stand, covered, at room temperature about 2 hours or until brandy is absorbed, stirring occasionally.

Preheat oven to 350°. Line bottoms of three greased 8-in. round cake pans with parchment paper; grease paper.

In a large bowl, mix flour, sugar, orange peel, baking powder, baking soda and salt until blended. Add buttermilk, butter and vanilla; beat on low speed 30 seconds or just until dry ingredients are moistened. Beat on medium for 2 minutes. Add egg whites; beat 2 minutes longer.

Transfer batter to prepared pans. Bake 20-25 minutes or until a toothpick inserted in center comes out clean. Cool in pans 10 minutes before removing to wire racks to cool completely.

In a large bowl, cream butter until fluffy. Gradually beat in confectioners' sugar. Beat in vanilla and enough cream to reach desired consistency. For filling, remove 1 cup frosting to a small bowl; stir in pecans and raisin mixture.

Place one cake layer on a serving plate; spread with half of the filling. Add another cake layer; top with remaining filling. Add remaining cake layer; spread remaining frosting over top and sides of cake.

Yield:

16 servings.
Editor's Note:
To toast nuts, bake in a shallow pan in a 350° oven for 5-10 minutes or cook in a skillet over low heat until lightly browned, stirring occasionally.
Home Made Fig Newtons
I think you are either a Fig Newton lover… or not. But let's forget about those people, as I am a Fig Newton lover. I have the most wonderful, nostalgic associations with this classic cookie. It was the only "packaged" sweet I remember being allowed as a kid, (I honest to God had my first Oreo in college, but that is a different story) and boy did we love them.
They are soft and chewy and soooo good. Creamy vanilla dough and a textured, sweet, figgy filling! A great cookie for your kids lunches, or for the grown ups that grew up eating them!
Cookie Dough:
1 1/2 sticks butter, at room temperature
¾ cup white sugar
1 ½ large egg whites
1 tsp vanilla extract
2 ¼ AP flour
In the bowl of a mixer, cream together the butter and sugar until pale and fluffy. Add the egg whites and vanilla and mix until well combined. Slowly add in the flour and mix until there is a smooth, uniform dough.
Like a sugar cookie dough, I formed this into a smooth disc, wrapped it in saran wrap and put it into the refrigerator to chill. You could let it chill for an hour, or up to several days depending on your schedule.

(chilled dough)
Figgy Filling:
1 cup of dried mission figs, (that is how many come in your average store purchased package of dried figs)
2 cups good quality apple juice
½ cup water
½ cup sugar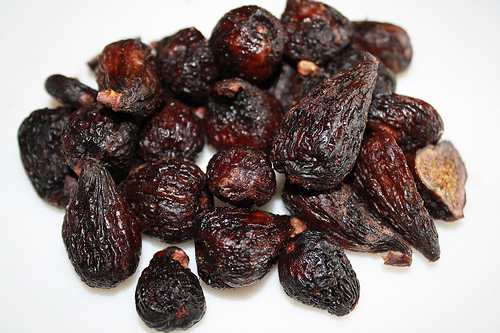 Finely chop the dried figs with a sharp knife.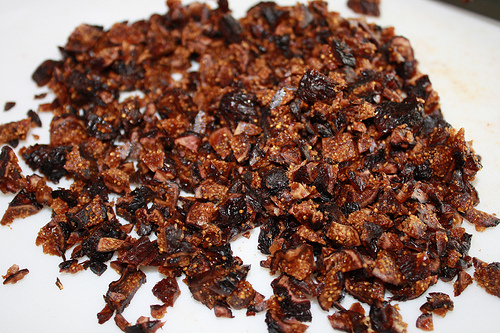 In a small sauce pan, combine the figs with the sugar, juice and water.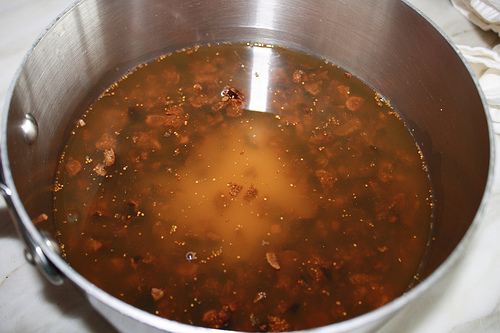 Mix everything together and simmer uncovered about an hour, or until the figs are soft and most of the liquid has been reduced to a syrupy consistency.
Wait for the mixture to cool slightly and then add them to the bowl of a food processor.
Puree the figs until they make a paste.
Refrigerate the puree until cold, a few hours and up to a few days.
Pre heat the oven to 350 degrees. Prepare one large sheet pan with a silpat or a sheet of parchment paper.
Cut the disc of dough in half, and on a floured surface, roll out each half into an approximately 12×8" rectangle. Trim the edges with a sharp knife so that it is an even rectangle.
Cut this in half, so that you have two long strips, approximately 12×4".
Spread ¼ of the fig mixture down the center of each of the strips.
Fold the edges over so that they meet, and lightly seal them together.
Turn the "log" over, so that the seam is on the bottom of the cookies.
Transfer (carefully!!!) the logs to the sheet pan.
Using a sharp knife (I think a serrated knife works best) cut the logs evenly into about 2" long bars.
Repeat this with the additional dough and fig filling.
Bake the fig bars until they are barely golden, but still quite pale. This took about 20 minutes, but every oven is different so keep an eye out after the 15 minute mark.
Store these in an airtight container after cooling.
Truth be told these were better the second day, and just continued to get better and better! These were good up to a week after I made them. After that I can't vouch! Because we ate them all ☺
Fig and Goat Cheese Bruschetta
Prepare the fig jam for this savory-meets-sweetappetizer up to three days in advance, and store in the refrigerator. Bring to room temperature, and assemble bruschetta just before serving. For smaller groups, use half the amount of bread. Leftover jam is great on toast at breakfast.
Save Recipe
Add to Shopping List
1 1/4 cups chopped dried Mission figs (about 9 ounces)
1/3 cup coarsely chopped orange sections
1 teaspoon grated orange rind
1/3 cup fresh orange juice (about 1 orange)
1/2 teaspoon chopped fresh rosemary
1/4 teaspoon freshly ground black pepper
40 (1/2-inch-thick) slices French bread baguette, toasted (about 8 ounces)
1 1/4 cups (10 ounces) crumbled goat cheese
5 teaspoons finely chopped walnuts
Preparation
1. Combine first 7 ingredients in a small saucepan; bring to a boil. Cover, reduce heat, and simmer 10 minutes or until figs are tender. Uncover and cook 5 minutes or until mixture thickens. Remove from heat; cool to room temperature.
2. Preheat broiler.
3. Top each bread slice with 1 1/2 teaspoons fig mixture and 1 1/2 teaspoons goat cheese. Arrange bruschetta on a baking sheet; sprinkle evenly with walnuts. Broil 2 minutes or until nuts begin to brown. Serve warm.
FRENCH BAKED BRIE RECIPE WITH FIGS, WALNUTS AND PISTACHIOS
Are you an 11th-hour party hostess? If so, I have the best express appetizer for you today!  Get your oven ready for this French baked brie recipe with figs, walnuts and pistachios.
Planning a winning menu is no small feat! And even when I have the menu all figured out in advance–which doesn't happen too often–I usually discover that I am missing that one last dish. Have you been there before? It's a safe no-judging zone here
Often times, my missing dish is an appetizer. I just get too focused on the main meal that my brain does not register "appetizer" until later in the game.
Appetizers, starters, hors d'oeuvres, or whatever you want to call them, are such an important part of any gathering.  They provide the "welcome" and set the stage for what comes next.  I found that appetizers, particularly dips, have a way of bringing people together at the kitchen counter. Don't they? As a hostess, I don't mind that. I love having everyone meet up around my kitchen island while I finish my work. I love to hear people catch up on life while they dig into the hummus or a warm baked brie like we have here today.
I'm sure you've got your holiday dinner all figured out by now ???? But if you're looking to add one last quick appetizer, this baked brie with jam, figs, walnuts and pistachios is a great last-minute one. 15 minutes is all it takes! And it is nothing short of impressive! It is the perfect sweet, nutty, cheesy, and super gooey goodness. YUM!
This baked brie recipe is so simple; I am almost embarrassed to share it. But since it's sooo good, I had to!
I promised you an express appetizer; so let's get to it, shall we? (print-friendly recipe to follow)
STEP-BY-STEP INSTRUCTIONS FOR BAKED BRIE RECIPE
Preheat the oven to 375 degrees F. Place the fig jam/preserves in a microwave-safe dish. Microwave for 30 seconds to soften.
In a small bowl, combine the sliced dried figs with the nuts.
Add half of the fig jam and mix well to coat the nut mixture.
Place the round of brie in a small cast iron skillet or oven-safe dish. Using a knife, coat the brie with the remainder of the jam.
Top the brie with the fig and nut mixture.
Place the brie dish on a baking sheet. Bake in 375 degree F-heated oven for 10 minutes (or until brie starts to ooze, but not melt)
Serve warm with your favorite crackers!
See how easy this recipe is?
Quick Recipe: Mission Fig Jam
RECIPES FROM THE KITCHN
Every now and then a recipe comes along that just about slaps you in the face it's so good. (Bonus points when it's lightning fast and incredibly easy.) That's what happened when I first sampled this Mission fig jam. My mind was completely blown!
This recipe for Mission fig jam is considered a "quick jam" because it uses dried fruit as opposed to fresh, and it doesn't go through the traditional canning process. Basically it's just dried figs simmered for a few minutes with sugar and water, then pureed in a food processor. Seriously, it's that easy. The results, however, taste like you slaved for hours and hours!
I enjoyed my first batch of fig jam on a toasted crostini piled with fresh ricotta, but as I type this, millions of other ideas come to mind: fig jam smeared over baked brie, dolloped on a cheese board, smothered inside of a peanut butter & jelly, or swirled into Greek yogurt. The possibilities are endless! Just think how impressed your house guests will be when you serve this with their morning toast?! (You can thank me later. Wink, wink.)
Quick Mission Fig Jam
Yields 1 1/2 cups (See Notes)
6 ounces (about 22 whole) dried Mission figs, stems removed
1 cup sugar
1 cup water
Juice from one lemon (about 3 tablespoons)
1/2 teaspoon vanilla bean paste or pure vanilla extract
Combine figs, sugar, water, and lemon juice in a medium saucepan and bring to a boil. Reduce heat and simmer until the liquid has thickened slightly and has turned a rosy, golden shade, about 6-8 minutes. Turn off the heat. Stir in vanilla bean paste (or extract) and cool the mixture for 10 minutes. Transfer to a food processor and puree until smooth.
Store in an airtight container (like a mason jar) in the refrigerator for up to a week.
Recipe Notes
This amount is perfect for sharing: one small jar for yourself, and one for a friend. Feel free to half, if desired.
FIG NEWTONS
I have this indescribable, yet unnecessary, need to make everything from scratch. Pop tarts. Naan. Pie Crust. Ice Cream. Pasta. At times it can be ridiculous. Overzealous. Marked by trial and error and more error. But in the end, after I wipe the flour, sweat, and, in this case, fig puree from my forehead, I feel accomplished. I beat the machine, the big company, the artificial flavors, the cardboard packaging and plastic wrapping. Sweet victory.
Homemade fig newtons are well worth their sweat. With hints of orange in the delicate cake-like crust. And a dried fig purée that'll make you believe you have Harry Potter powers as you effortlessly spread the purée across the pastry. The two almost hug each other in comfort as they bake into a near replica of the original. Looks may be deceiving, but you'll know which one is  made from scratch. Taste never lies. Sweet, sweet victory.
UPDATE 8/10/12: I added a tiny bit more flour to the recipe after reports of dough being somewhat difficult to work with. Be sure to work on a well floured surface with chilled dough. If dough cracks when rolling, allow to come to room temperature for a couple minutes.